What size Stick Jacket do you need?
Stick Jackets are offered in Eight Popular Sizes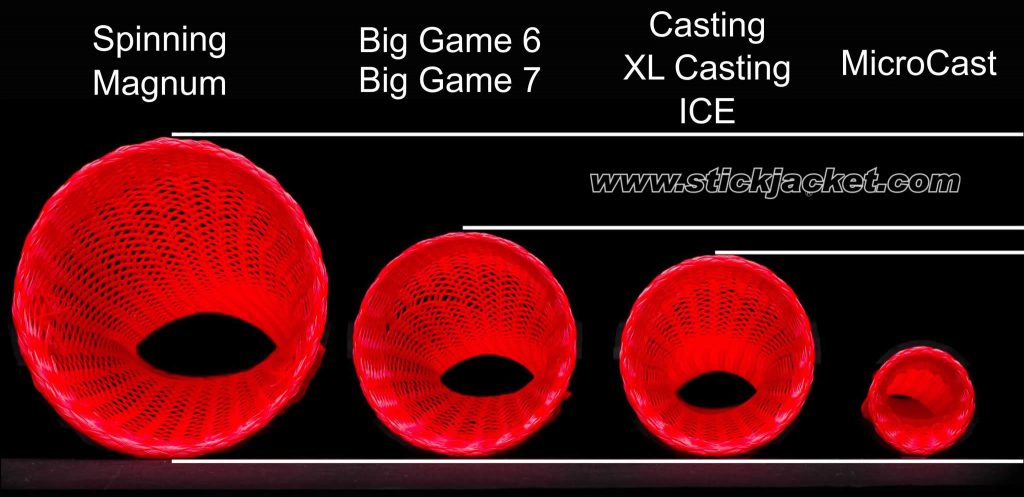 Your line on the guides
More on line guides, circumference and the size Stick Jacket that works for you.

The circumference (C) is the measurement taken around the line guide and rod blank.
Big Game 6 & Big Game 7 work for rods that measure up to C=5-3/4″ (blue).
MicroCast is our smallest with C=2-1/2″ (yellow).
It's all Relative – Length (L) x Circumference (C)
More on comparing Stick Jacket sizes. Below illustrates the differences in Stick Jacket sizes.

Each color represents a common circumference.

ICE is shortest length Stick Jacket. Big Game 7 is the longest Stick Jacket at 7 ft. Choose a length that covers all your line guides but short enough not to cover a fishing lure that may still be tied to the fishing line. Tame the Tangle and spend more time fishing. If your Stick Jacket is a little long, that's okay too.

Rule of thumb?
Still not sure, use your thumb or pinky finger to determine the correct size. (click for more)

Use your thumb:

Spinning or Magnum is a good choice if a man can stick his THUMB in any of the line guides.

Use your pinky:

Big Game 6 or Big Game 7 is a good choice if the pinky finger can be inserted up to the first knuckle of the largest line guide.
Casting, XL Casting or ICE is a good choice when just the tip of the pinky figure fits in the largest line guide.
MicroCast is intended for bass rods built with micro line guides and medium heavy rod blanks.
Reel Answers
More about fishing reels, the related rods and Stick Jacket size.

Knowing the type of fishing reel or what it looks like may help you choose the right size Stick Jacket for your rod. Use the photographs below as your guide.